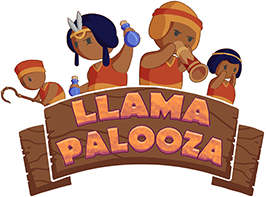 Llama Palooza
This is a 10 Week student Project with 18 other students.
I acted as Creative Director, leveldesigner and programmer on this game.
Install instructions
Installing the game:
Step 1: Download the .zip file. Step 2: Right-click on the .zip file "Llama Palooza". Step 3: Click on "Extract files.." to choose a spot where the game will be placed or click on "Extract here" to place the files where the .zip is located. Step 4: Double left-click on the Llama Palooza application file and start playing!
* BEFORE YOU START THE GAME: PC-controllers required for this game. (Such as Xbox One, PS4 or such controllers) Start the game with only ONE controller plugged in. There after, insert a controller one at a time. Patience is key
* In case you encounter a problem while playing, check these solutions: If players get stuck, please press 4 on numpad. If llamas get to areas where they can't be accessed, please press 5 on numpad. If you get stuck on the score screen, please press the R key.
--------------------------------------------------------------------------------------------------------
Download
Download
Llama_Palooza_Alpha_v2.rar
163 MB